Prom Reminders for NCA Students and Families: Prom will be held on Saturday, May 14, 2022. Doors will open at 7:00 pm. (Admittance to prom will end promptly at 8:00pm- there will be NO Re-entry to this event). Students who plan to invite non-NCA guests MUST complete a Guest Form no later than Thursday, May 12, 2022. For Guest Forms and to purchase tickets, please see Ms. Martorana at the front desk. Ticket Costs: $7 for single tickets and $10 for couple tickets. Food and beverages are provided for this event! Please refer to the menu provided in this post!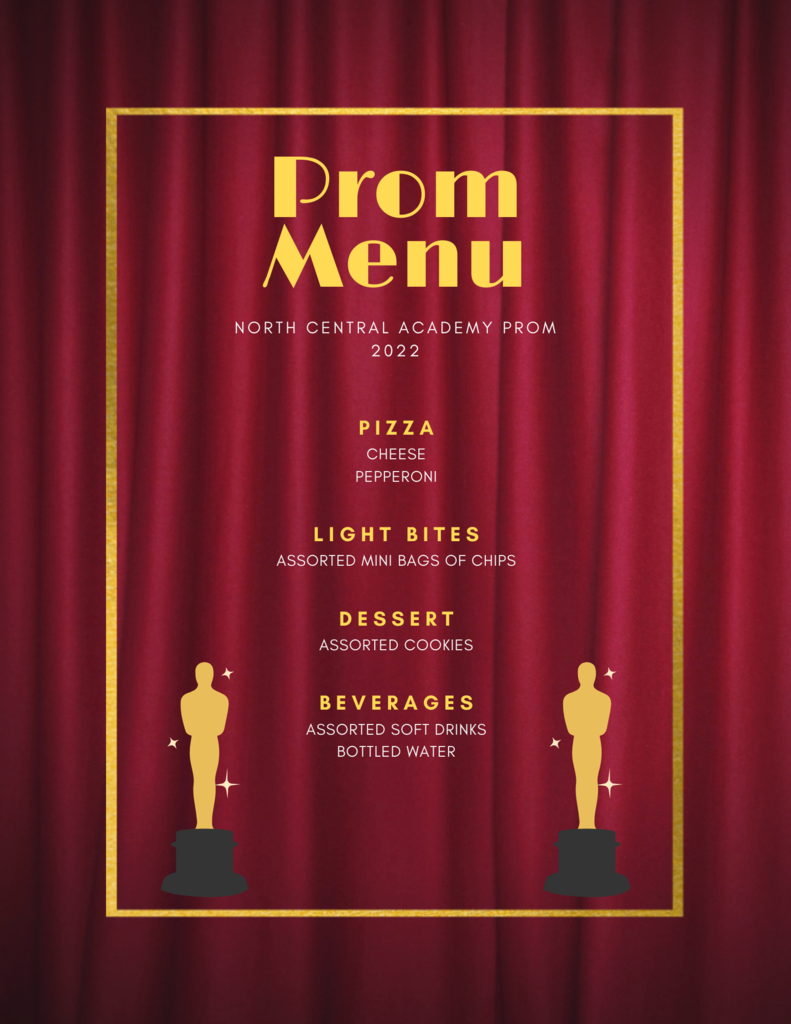 The 2022 NCA Talent Show will take place Thursday, May 12, 2022 at Noon in the NCA Gym! The talent contest will be done in 2 parts! Judges will choose 1 winner of the best overall singing performance of our NCA Alma Mater and 1 winner of ANY TALENT (contestants must be cleared by Mr. Davoli before being part of the talent contest). Prizes will be given for the winners of each category! Family, friends and Alumni and encouraged to attend! If you are interested in performing in the 2022 NCA Talent Show please see Mrs. Sebbeto or Ms. Martorana at the front desk to sign up! For any additional information, please contact Mr. Davoli via email
jdavoli@ncoesc.org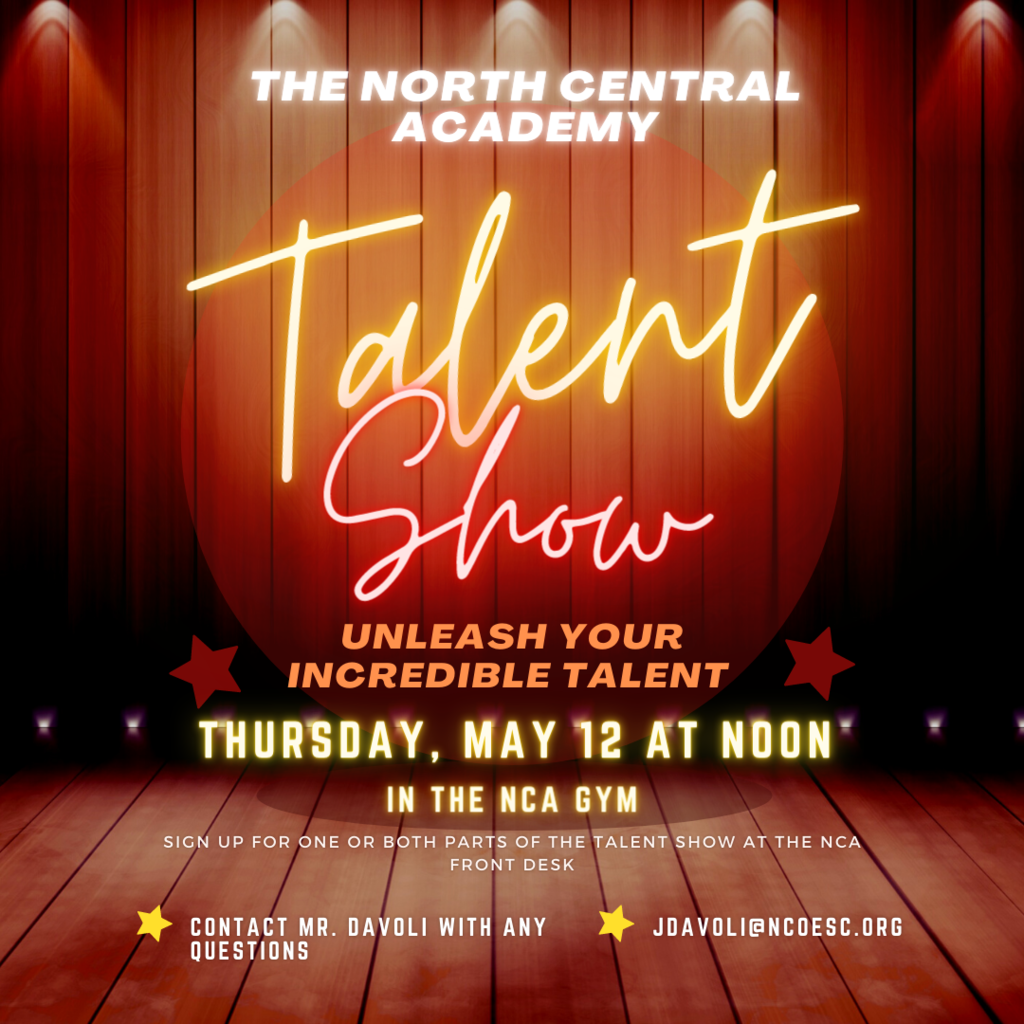 ATTENTION: Students, Alumni and Family Members of NCA- These are the employers you can expect to see at the Open Interview Event tomorrow, Friday, April 22, 2022! Elmwood Inc (Tiffin, Green Springs, Fremont); Westbrook Assisted Living (Upper Sandusky); Tiffin Rehab/Autumnwood (Tiffin); Camden Falls (Tiffin); Wendy's (Tiffin); Panda Express (Tiffin/Findlay); American Fine Sinter (Tiffin); Fry Foods (Tiffin); Roppe Rubber (Fostoria); Seneca Millwork (Fostoria); Tiffin Metal (Tiffin); Tiffin Paper Co. (Tiffin); Taco Bell (Tiffin) Please come prepared with multiple copies of your resume and a valid Ohio ID! We look forward to aiding in your employment search!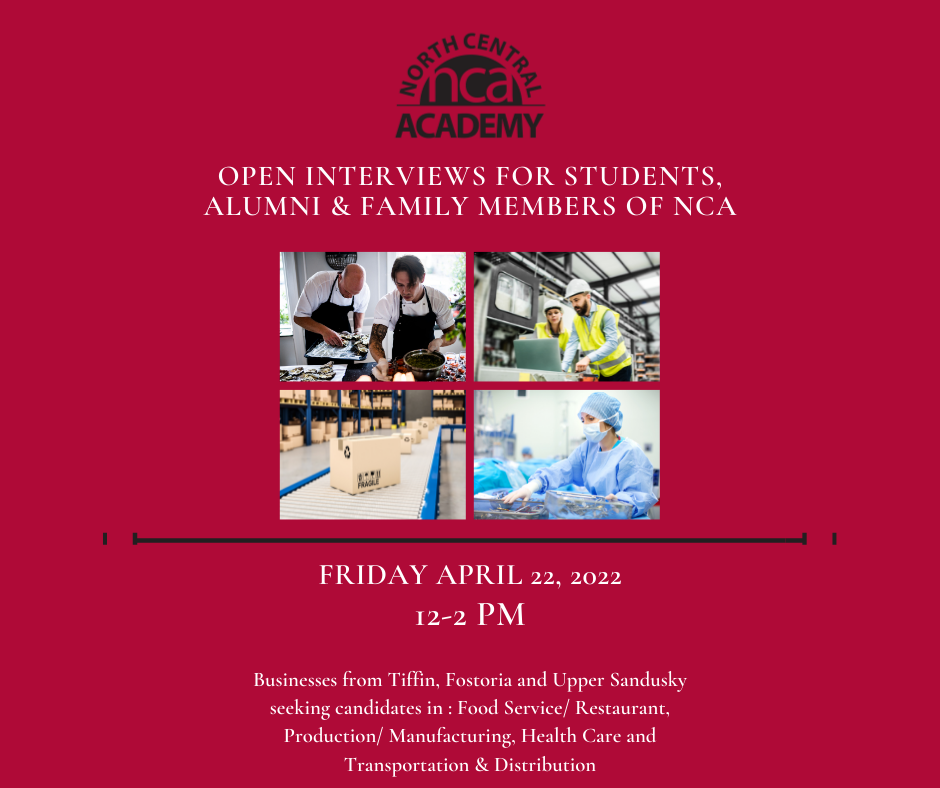 IMPORTANT REMINDER for Students, Alumni and Family Members of NCA! Are you actively seeking employment and professional growth opportunities? This Friday, April 22, from Noon-2:00PM, area businesses from Tiffin, Fostoria and Upper Sandusky will be available at North Central Academy to interview students, alumni and family members for open positions both part-time and full-time in the following areas: Food Service/Restaurant Production/Manufacturing Health Care Transportation & Distribution Please come prepared with multiple copies of your resume (10 copies recommended) and valid Ohio ID. *If you need assistance preparing a resume, contact your local Job and Family Services or call Becky at North Central Academy for an appointment at 419-448-5786

Hey Seniors! Don't forget to order your Cap & Gown for graduation! Payment of $30.50 is due no later that Monday, May 2, 2022 to NCA. You must also submit your accurate height and weight in order to ensure proper fit of your graduation gown. Please see Mrs. Sebetto or Ms. Martorana at the front desk to do so! If you and your family wish to order graduation announcements you may do so by visiting Jostens at
https://www.jostens.com/apps/store/customer/1950562/North-Central-Academy/

Join Seneca County Victim Assistance Program in support of National Crime Victims Rights week for a virtual discussion around dating violence and the case of Gabby Petito tonight at 9:00 pm. In support of this important week, North Central Academy Students will be making awareness ribbons for our community! If you are interested in attending this virtual event, please email Brianne Fox, Student Services Coordinator at
bfox@northcentralacademy.org
by 5:00 pm today for the Zoom Link.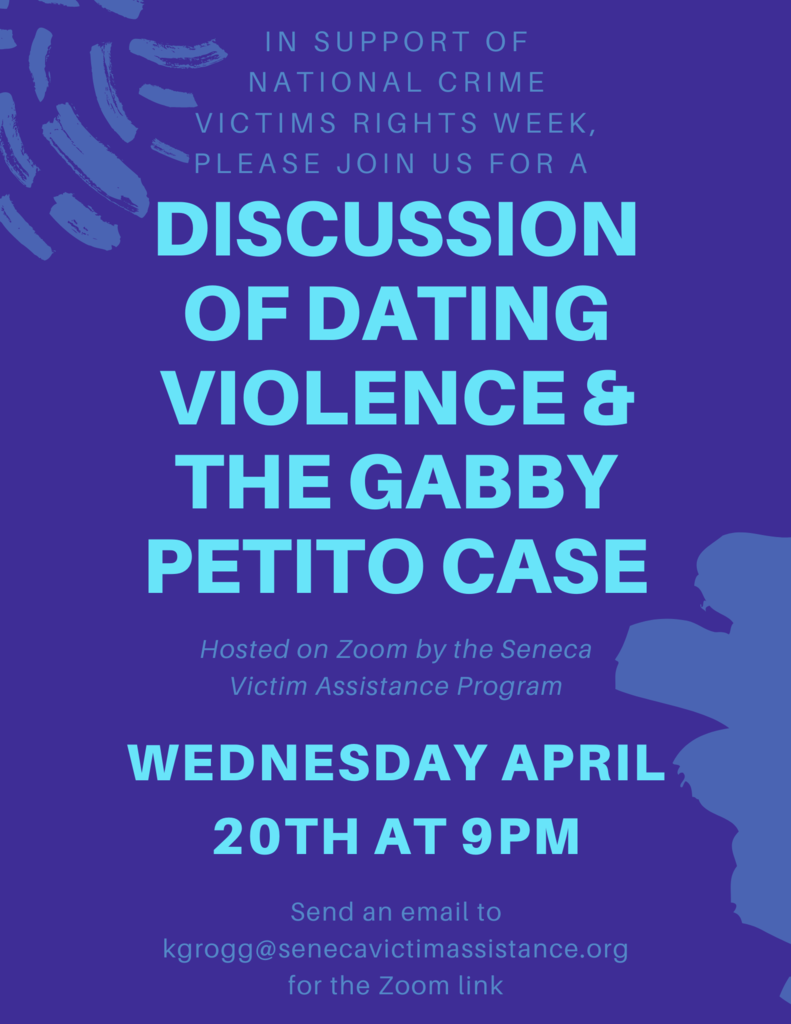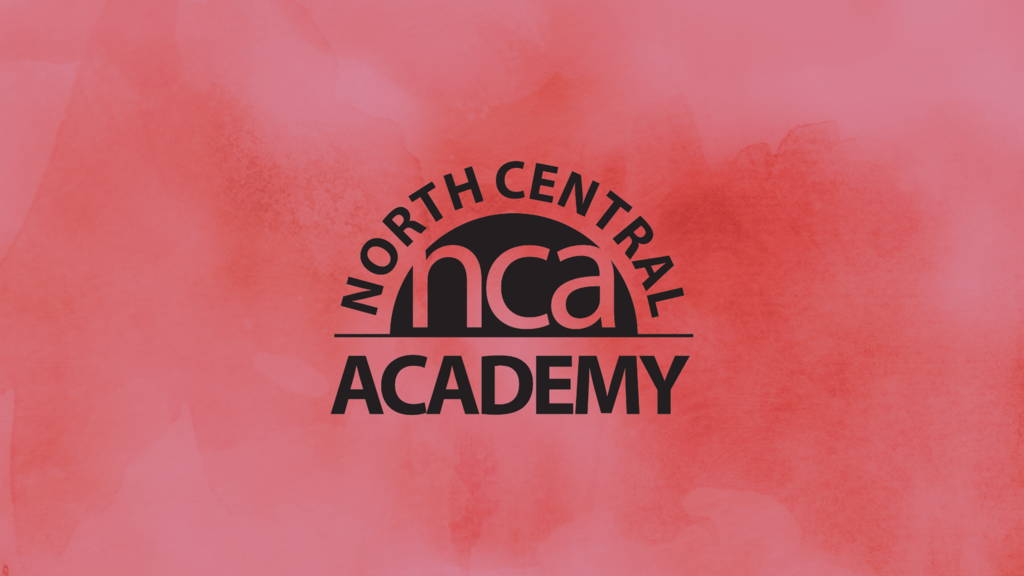 #FBF to Friday Family Fun Night last week! Thank you to everyone who attended. Thanks to you, NCA was able to raise over $1,200 for the benefit of the 2022 North Central Academy Prom! For more details about this year's Prom visit us at
https://www.northcentralacademy.org/article/672311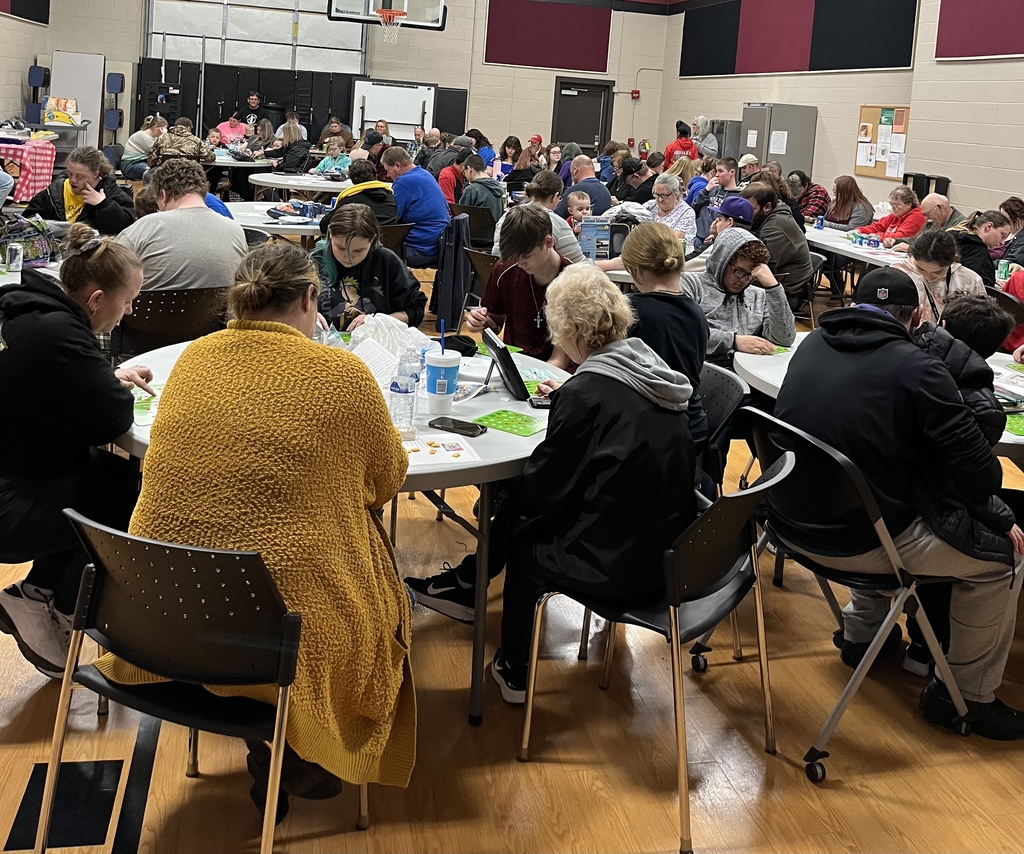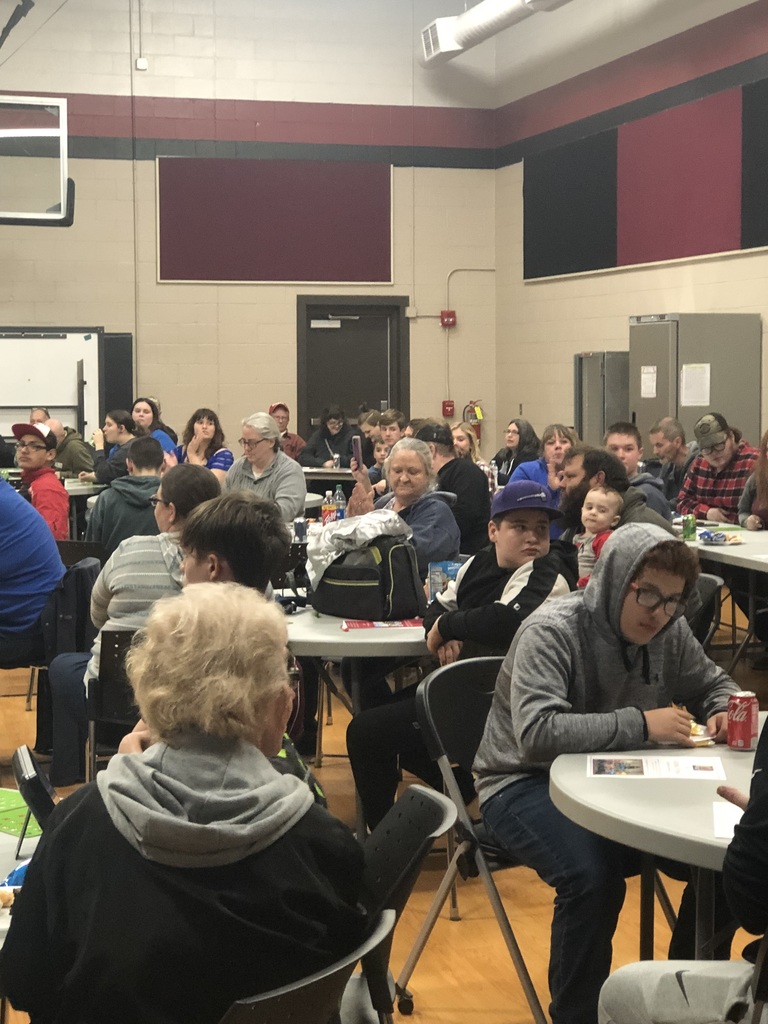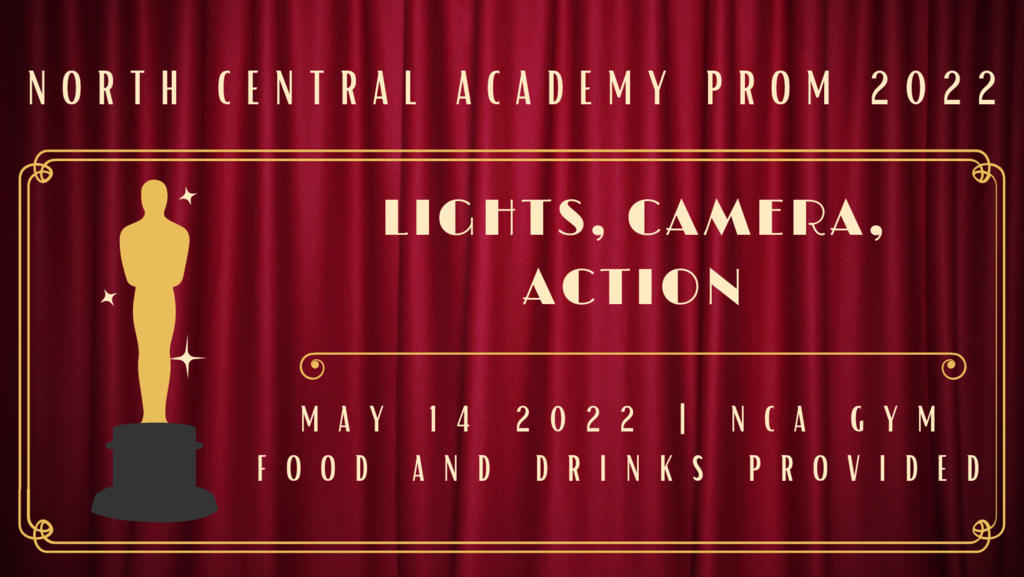 #TBT to Spring Open House! What a great way to showcase NCA and all that we have to offer the students and families of our community! Thank you again to all of our business partners, NCA staff, students and family members that made this a great experience for prospective students and families. If you are interested in enrolling your student at NCA visit us at
https://northcentralacademy-oh.finalforms.com/?forward_path=%2Fdashboard
to complete the enrollment forms. To schedule a tour and meeting with our school to discuss your child's options at NCA contact us at 419-448-5786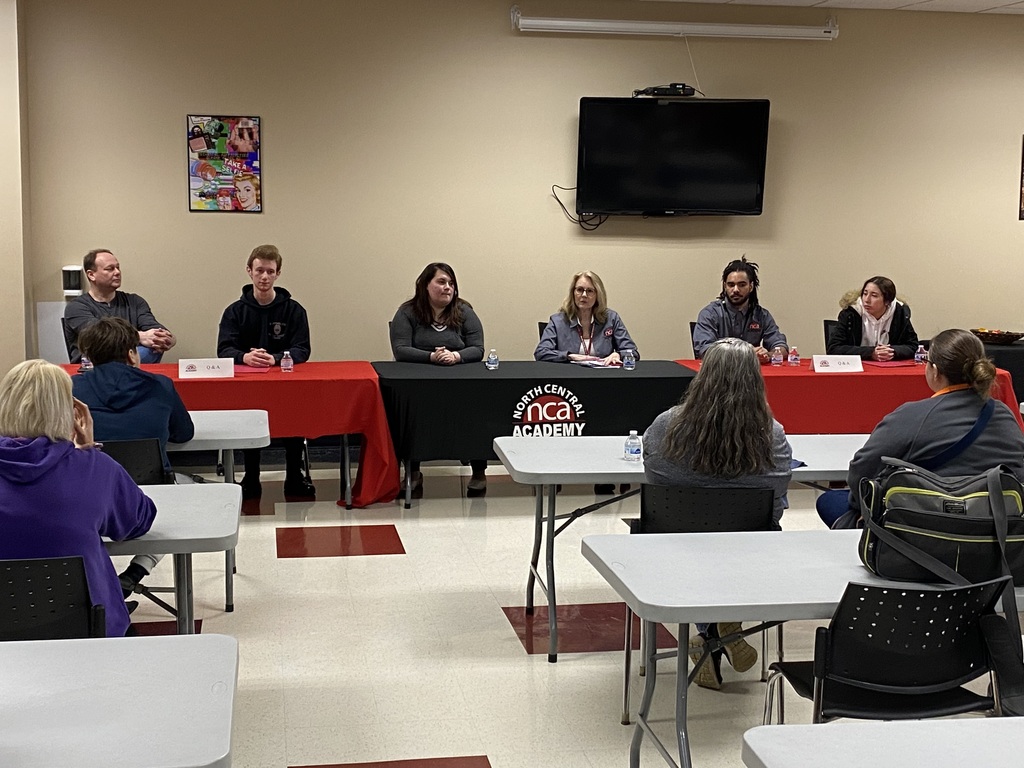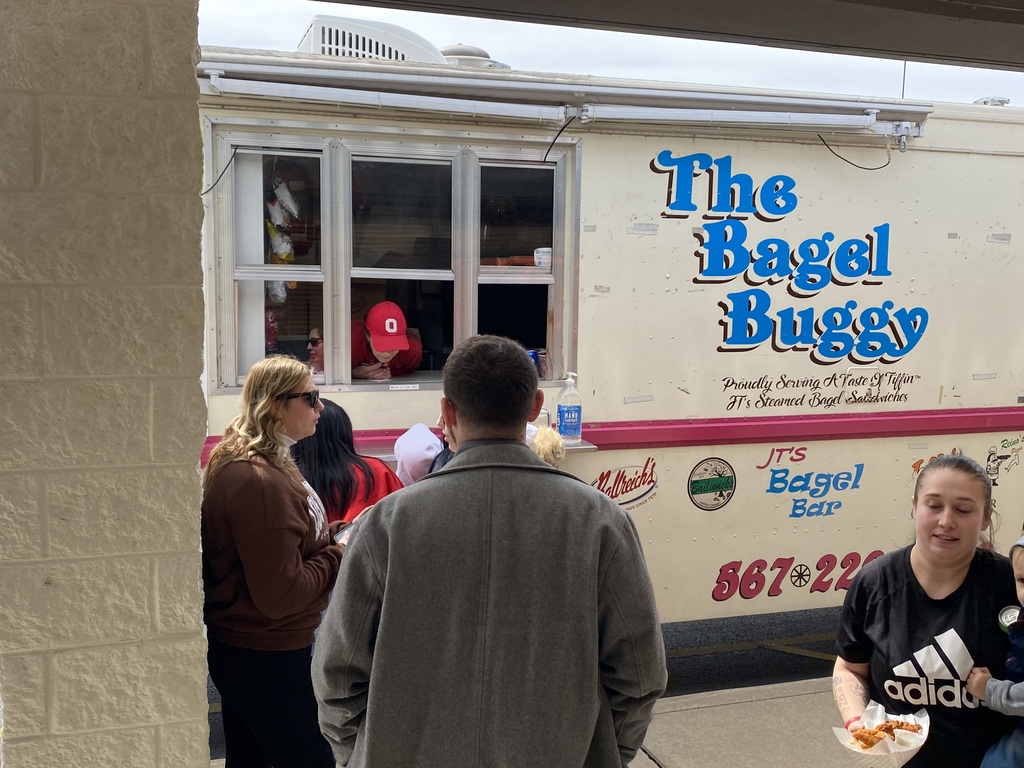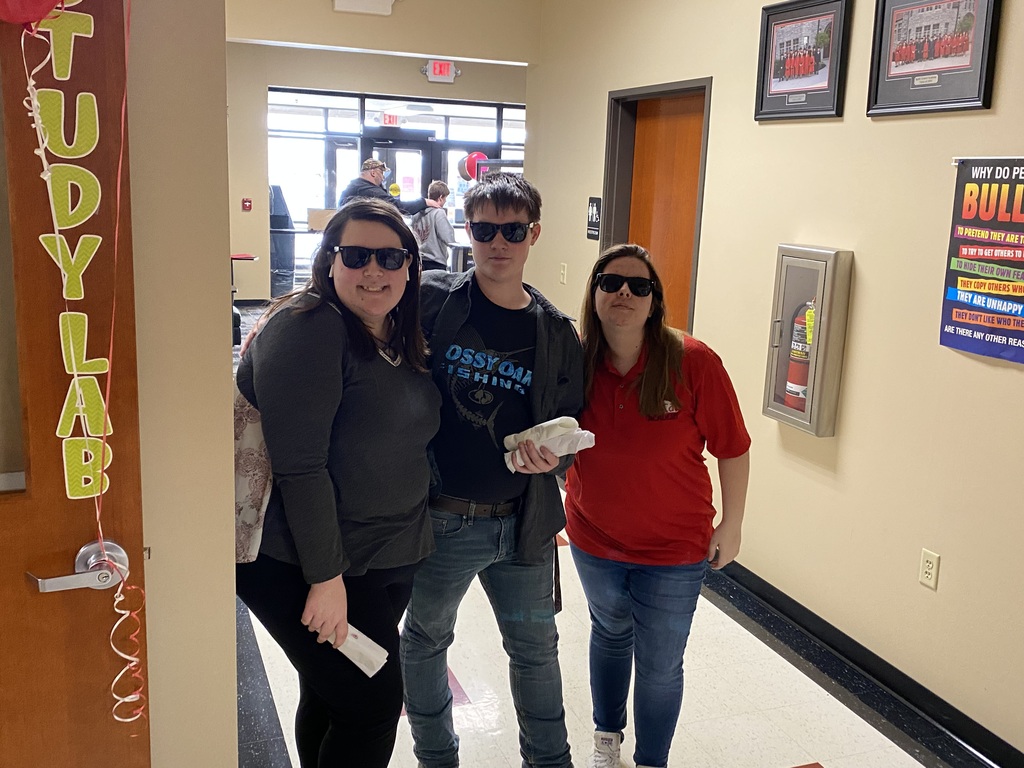 Attention NCA Families and Students: Due to foggy conditions, NCA is closed today, April 12, 2022. Please be safe in your travels today.
Attention NCA Families and Students: Due to current foggy conditions, NCA Is on a two hour delay this morning April 12, 2022.

ATTENTION NCA GRADUATING SENIORS & FAMILIES: As we prepare for Graduation Day 2022 please take the time to review the following graduation day details to ensure you and your student are prepared for a great day! The NCA Graduation will be held OUTSIDE in front of the school on Friday, May 27, 2022; On the morning of graduation, graduates are to arrive at 10:30 am for rehearsal and lunch provided by NCA. Rehearsal and lunch will end at approximately 12:30 pm. Please ensure your graduate has transportation to leave rehearsal; That evening graduates should return to NCA at 6:00pm; The Class of 2022 class picture will be taken at 6:15 pm- graduates MUST wear their cap and gown in this photo; A raised platform (stage) will be in front of the school, under the awning; A photographer will be taking pictures of the graduation ceremony- Photos will be emailed to families and posted on both our website and social media pages; The graduation ceremony will also be recorded and shared on our website and social media pages; For safety and set up concerns- ALL students must RSVP if planning to attend the graduation ceremony no later than 5:00 pm on Tuesday, May 24, 2022 via email to Mrs. Sebetto at
ssebetto@northcentralacademy.org
; *Should there be inclement weather, the graduation ceremony will be held indoors in the main conference room of the NCOESC- If the ceremony is moved indoors the will be a LIMIT OF 6 GUESTS PER GRADUATE; Please continue to monitor our website and social media pages for graduation day updates!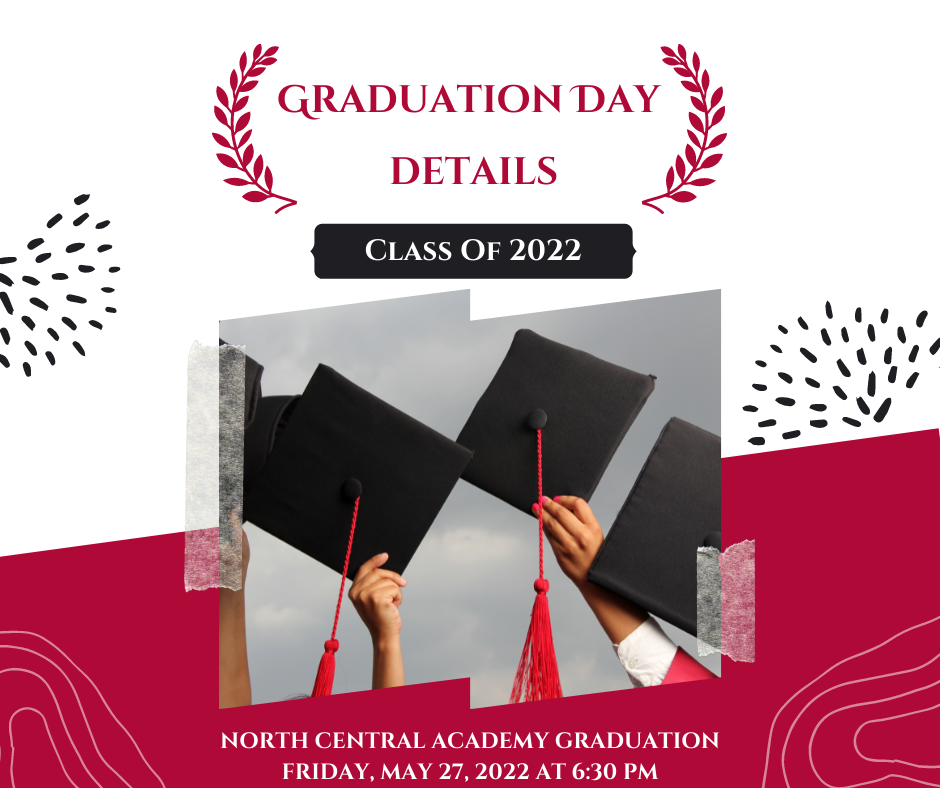 Attention NCA Alum and Graduates! Our next NCA Alumni Virtual Lunch & Meet will be held on Tuesday, April 19, 2022 at 12pm EST. We know many of you may not be aware of what our Alumni Network has to offer you, so this upcoming lunch and meet will focus on what is available to you and how you are essential to the future of NCA! If you are unable to attend, or believe you are not currently receiving our Alumni Network updates, please email Student Services Coordinator, Brianne Fox at
bfox@northcentralacademy.org
directly to set up a time to chat and catch up regarding the network! *Our Alumni Network is open to both graduates of NCA and individuals who attended NCA during their middle or high school years.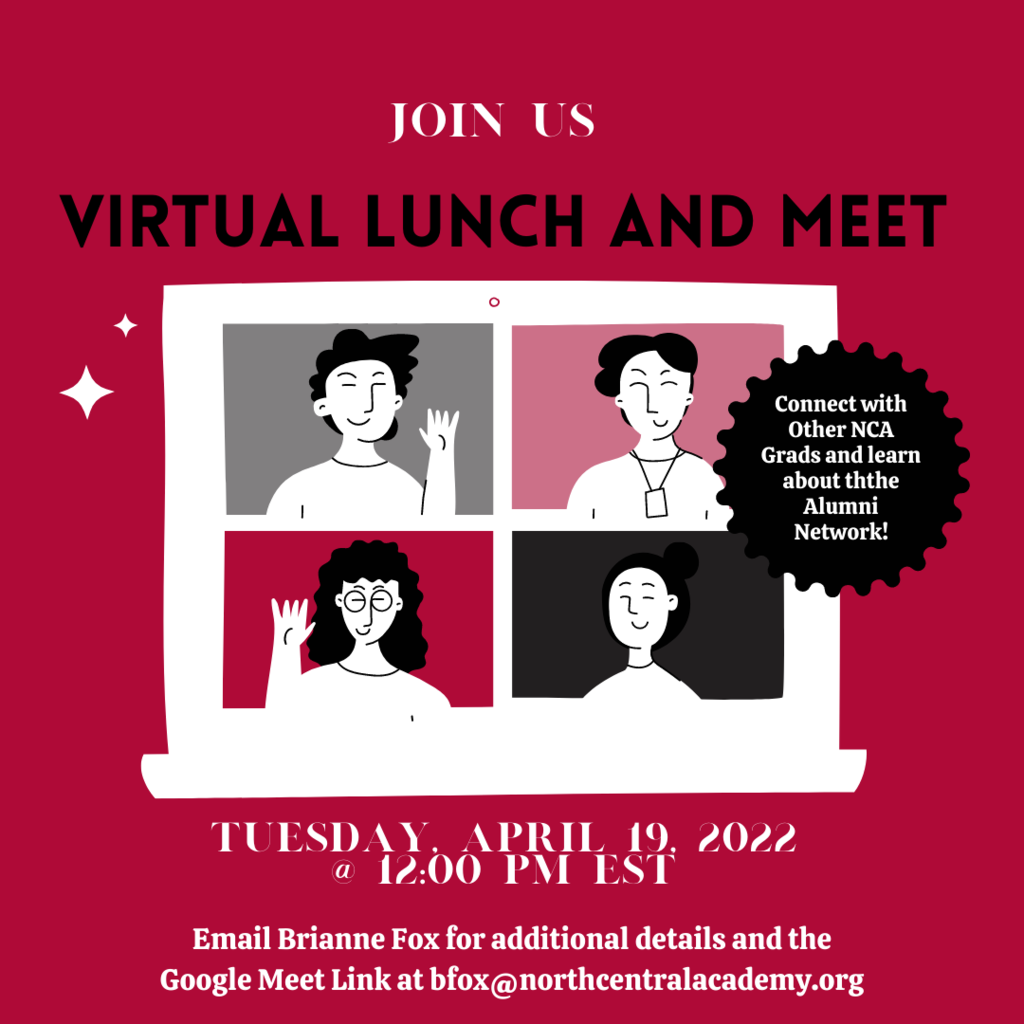 Yesterday NCA Senior, Leah Lytle spent time job shadowing at the Tiffin Public Library! During her experience, Leah learned about receiving books and materials from other libraries, how the cataloging system operates and shelving items using the correct practice. We are so proud of you and excited for your future, Leah!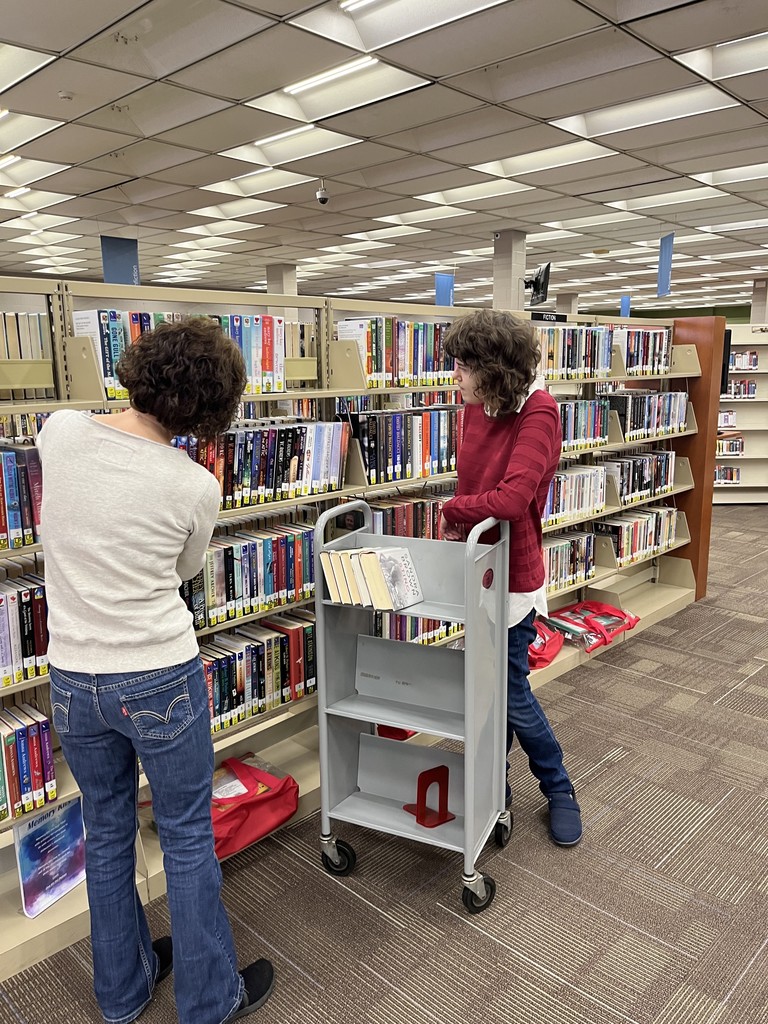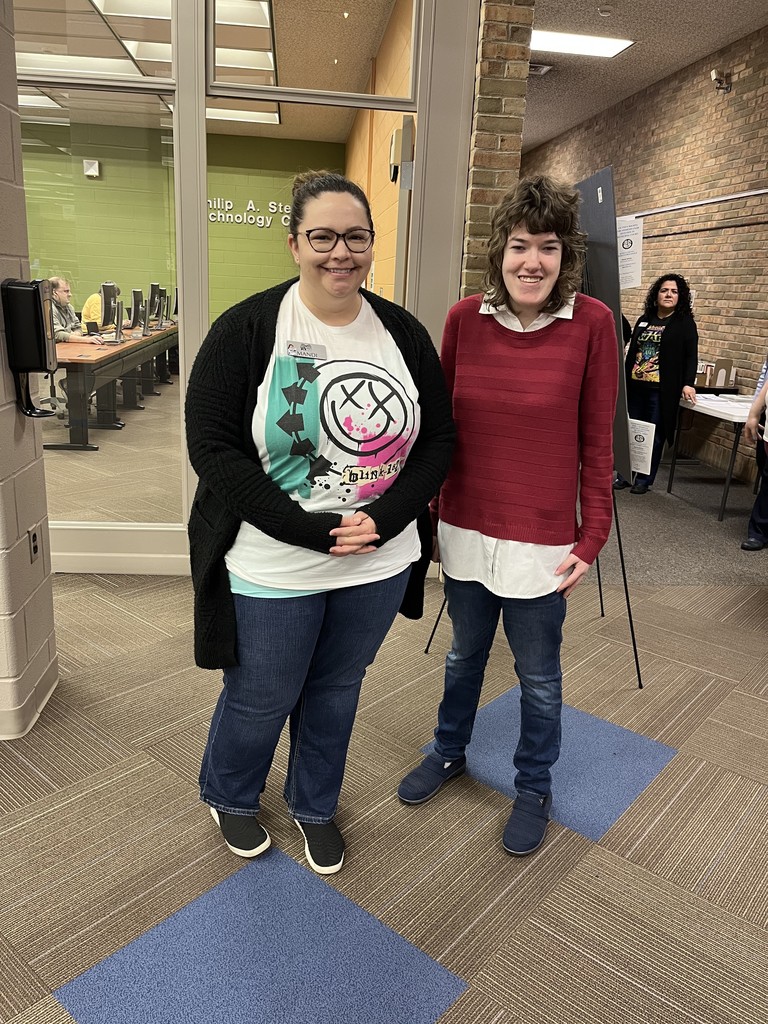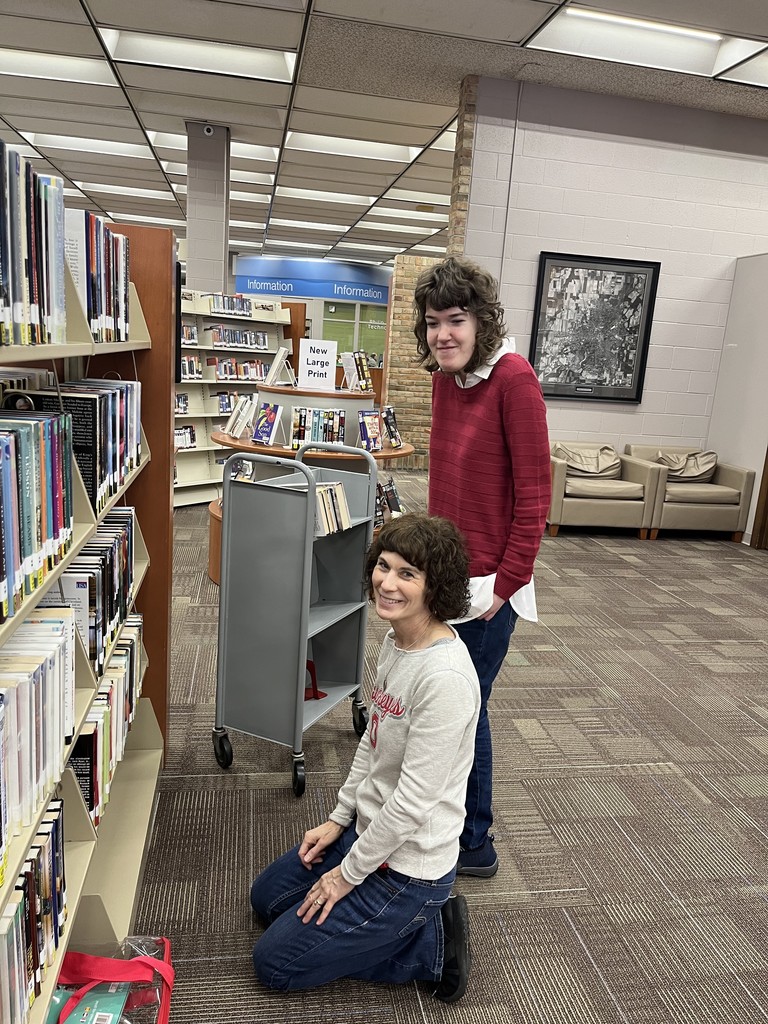 Congratulations to Ray Pine for successfully completing the Rise Up 2 - Customer Service and Sales course, earning a total of 12 industry credential points! We are so proud of you!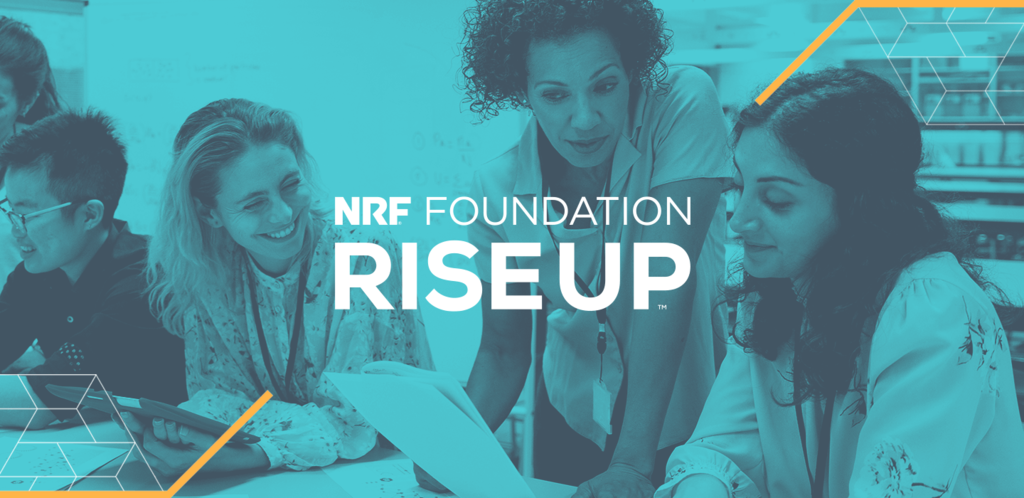 North Central Academy would like to extend our thanks to the entire NCA Staff, Q & A Panel Members, Current NCA Students, Business Partners and Prospective families for a successful Open House! NCA looks forward to continuing to serve our students, families and community!

Attention NCA Families! NCA will be hosting Friday Family Fun Night, this FRIDAY, April 8th from 6:00PM-8:00PM. This fundraiser benefits the 2022 NCA Prom! All tickets to raffles, BINGO, 50/50 and food are $1.00 each. As previously advertised, the NCA Theater Class will perform The Showing Up Show at 6:15PM. We hope you and your family can make it! If you have any questions, please call or email John Davoli.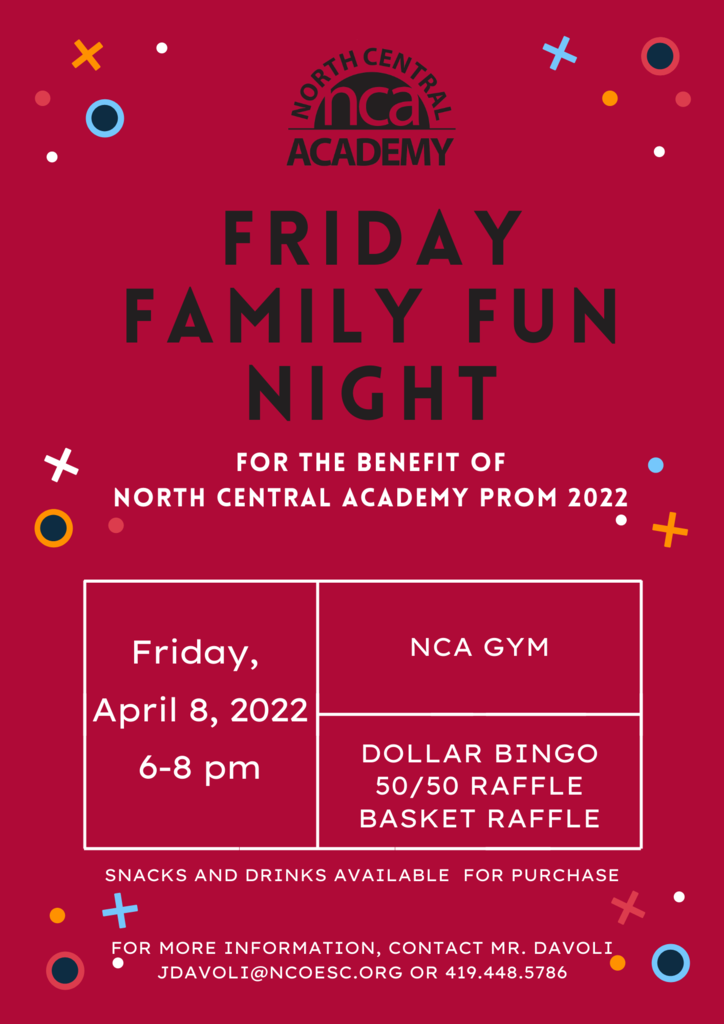 Open House at NCA is happening NOW! Interested in a better option for your 7-12th grade child's education? Stop in for a day of food, engagement and prizes!

The SHOWING UP Show: The show about showing up... The "SHOWING UP Show" is a 25-minute play that will be performed by NCA students. This play features three (3) scenes about showing up for school, showing up for work and showing up for life! It is a traveling show performing at Seneca & Wyandot County schools this spring. Performances will be at NCA on Friday, April 8th at 10:00AM and as part of our NCA Friday Family Fun Night at 6:15PM. Parents, relatives and friends of NCA are invited to attend!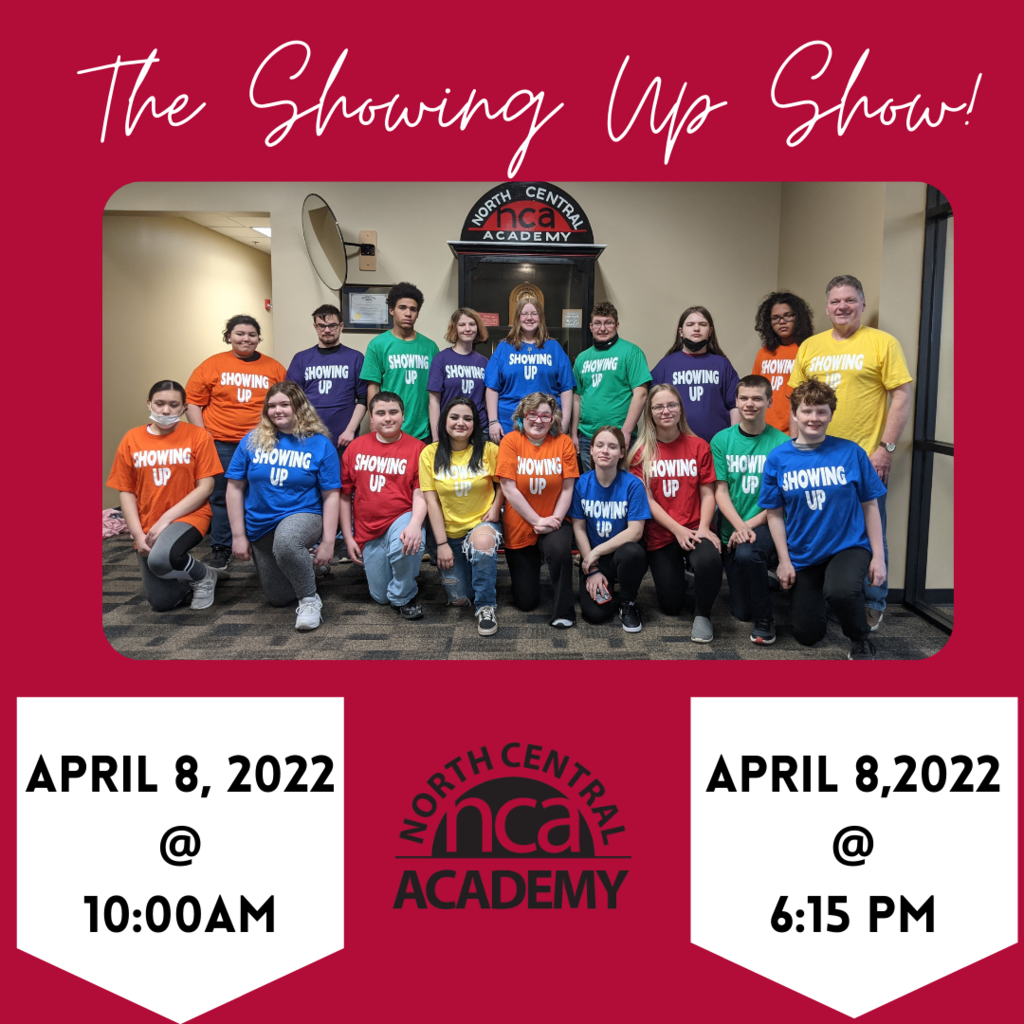 Wishing a Happy Birthday to all of our students and staff celebrating their birthday this month! #HBD to Rose Chavarria, Isaac Piper, Grace Fortune, Cyrus Flores and Griffin Mahan